Jayne Wilkinson, 59, from Birmingham, England, was near the statue of Winston Churchill in Parliament Square with her partner, David Turner, 56, when they saw people suddenly running from Parliament.
The couple said they had seen a middle-aged man holding a knife. He ignored warnings from the police, running though the gates into the compound of Parliament, she said.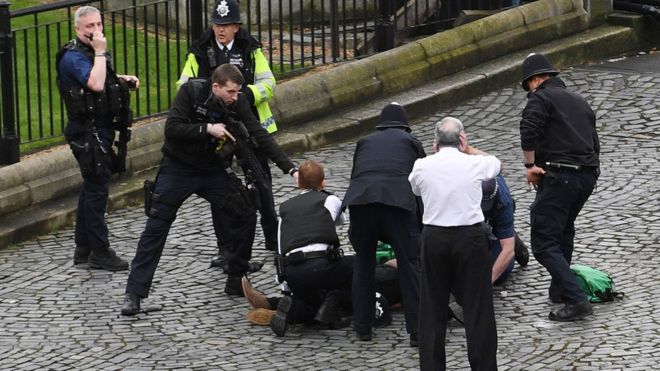 "They were shouting to warn him," Ms. Wilkinson said. Soon after, she and her partner heard three gunshots and saw the man on the ground.
Three construction workers who were inside the grounds of Westminster Palace said they heard shots fired in rapid succession before they were escorted off the premises. "It was bang-bang-bang," one of them said.
[btnsx id= »671″ link_type= »post » link_post= »http://www.baguedefiancaillefemme.com/uk-parliament-attacker-is-shot-panic-on-westminster-bridge-3/ »]